Reception Desk
Thank you for your Participation!
Presentation Files
Session presentation files are available for download
General Chair's Message
Click here to see the Tom Tomita's message
Workshop Program
Click here to view the Program Agenda
Click here to view the Session Schedule
Click here to view Session Information
Venue
Click here to view the Venue and Access
Excursion Tour
Date: Thursday, March 5, 2015
Destination: Dazaifu Tenmangu and Fukuoka Tower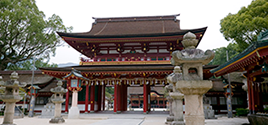 Welcome Message
Dear our Friends,
Welcome to Fukuoka, Japan!
We are glad to see you all again on AOSWA-3 meeting. As the third meeting, we now prepare some new trial in the conference. The first one is to have a cooperative conference with United Nation / International Space Weather Initiative (UN/ISWI). The participants of UN/ISWI are not only from Asia/Oceania but also from Africa, South America and more. We hope to expand our communication, discussion and cooperation with these new friends in this opportunity. The second trial is to have an "event report", in which we will discuss some space weather events in specific period. We have already held the meeting for many times but this is the first time to have an international session. We hope it will bring lots of fruitful results.
Also Fukuoka is a historical city which has been the gate connecting Japan and the East Asia for a long time. The Asian continent is very close to Fukuoka, and it has been exchanging foods, culture, technology and information. So it is much meaningful to have AOSWA meeting in Fukuoka.
Please join us to attend to AOSWA-3 and enjoy your stay in Fukuoka. In addition to exciting discussions, you must have very nice local foods and cultures.
We are looking forward to seeing you in Fukuoka.
Mamoru Ishii
Director of Space Weather and Environment Informatics Laboratory
National Institute of Information and Communications Technology
THEME
"International Collaboration
on Space Weather Forecast"
DATES & LOCATION
March 2-5 2015
The LUIGANS Spa & Resort, Fukuoka, Japan
Latest Archives
April 30 2015
March 31 2015
March 19 2015
Presentation data is uploaded